Meet Laura Wailes of Thistledown Farm Pottery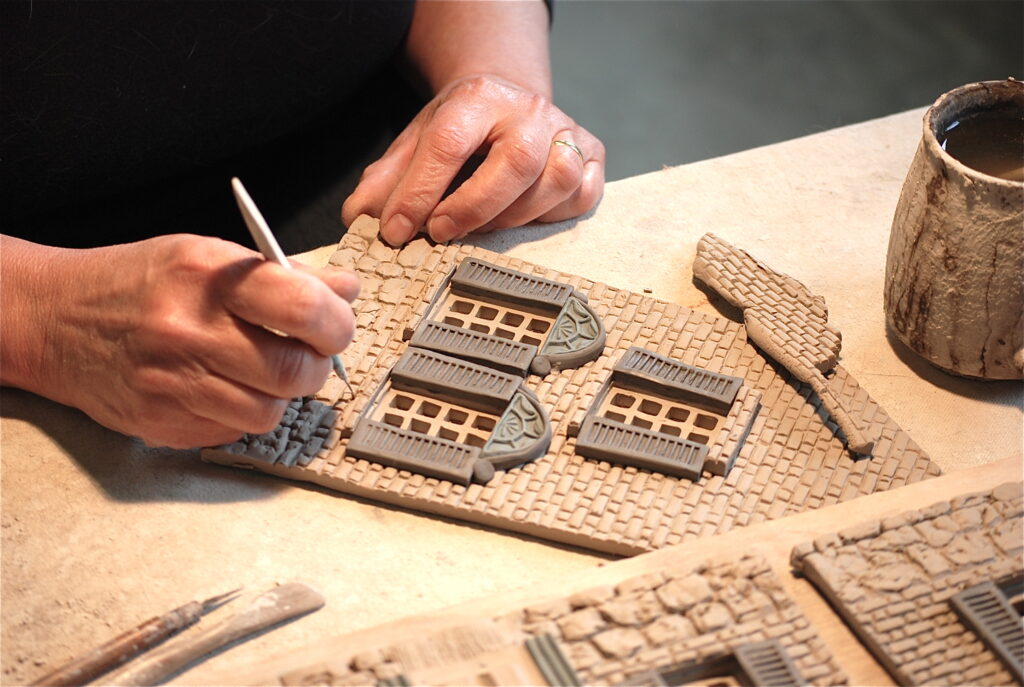 Contact Thistledown Farm Pottery
Laura C. Wailes
Thistledown Farm Pottery
[email protected]
443-929-0561
Please Note: Laura Wailes with Thistledown Farm Pottery is unable to participate in the 2023 Studio Tour. Laura's beautiful work will be missed. We hope to see her next year.
Laura Wailes began her sculpting career as a toddler using play dough. By the time she was in High School, she was producing clay sculptures ranging from the very practical to the very weird. She totally immersed herself into a dozen or so fields of art, and after many years of exploring she returned to her first love–clay. She then secured an apprenticeship at a high production pottery, fine tuned her abilities, and after many years there she left to start her own business. That was in 1985. This venture gave her the opportunity to combine two goals…to start her family and be a stay- at-home mother, and to have a thriving pottery business. She has been very busy ever since!
Thistledown Farm Pottery produces a very, very limited production of high fired stoneware architectural sculptures. Laura creates a variety of house styles such as Victorian, Federal, Gothic, Farmhouse, as well as Churches, Log Houses, Barns, Train Stations, and more. She also produces a line of garden pieces that include Wren Houses, Bluebird Houses, Toad Houses, Garden Markers, and more.
Laura has steadfastly remained a one-woman operation. This means that she has complete artistic control over her work…from wedging the stoneware to the design and sculpture process of each and every piece. Each sculpture is painstakingly done one at a time, and no two pieces are ever alike. Glazes and stains are mixed for each firing, so every kiln load fires out differently. There are absolutely no molds, and nothing is poured or cast. Every shutter, every piece of gingerbread, every aspect of each sculpture is done by the hand of one artist…Laura. This appeals to the discerning collector who feels that individually produced, signed art is truly an investment. With today's popular notion that Bigger is Better, it has become increasingly harder to find artists who are the sole producers of their own artwork.
Laura lives at Thistledown Farm, near Taneytown, Maryland. She and her husband, TR, have been renovating their 200 year old brick farmhouse for over three decades. So, Laura has a very keen appreciation for the nuances of old homes! Her pottery studio is a century old post and beam carriage barn that has been renovated into a very comfortable workplace.